IME Witnesses $1.19 Billion in Commodities Trading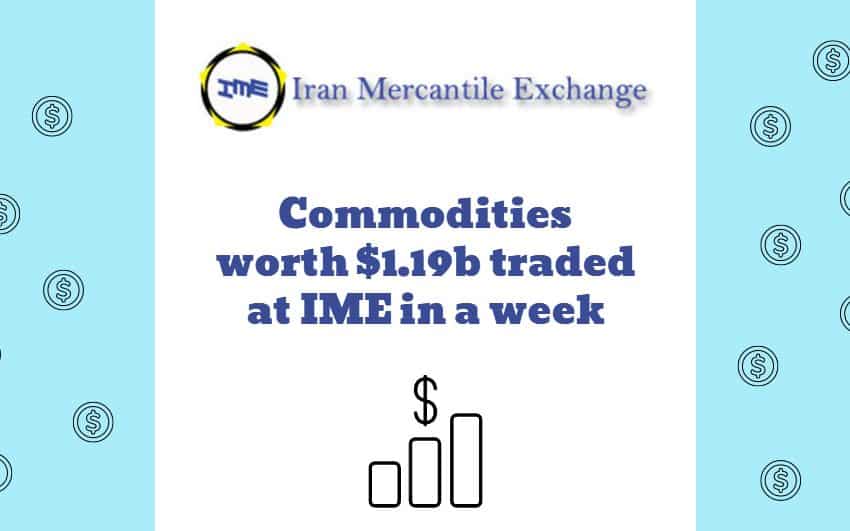 The International Affairs and Public Relations Department of the Iran Mercantile Exchange (IME), one of the four major stock markets of Iran, has reported trading of over 572,763 tons of commodities worth $1.19B in the week of August 7, 2020.
The trading volume spurred in different commodities. As per the IME, its metal and mineral trading floor experienced trading of 264,125 tons of commodities worth $626M, including copper, aluminum, molybdenum concentrates, precious metal concentrates, zinc ingot and gold bullion.
The IME's domestic and export oil and petrochemical trading floors reported trading of 308,170 tons of commodities worth $510M, including VB feed stock, bitumen, polymer products, chemical products, insulation, lube cut oil, argon, base oil, and sulfur. The side market of the IME witnessed trading of 401 tons of commodities.
The IME's trade report for July 2020 revealed trading of more than 2.608M tons of commodities worth over $4.669 billion. What follows is the breakdown of trading at the IME in July.
IME reported trading of 1.729M tons of commodities valued more than $2.346M, including bitumen, products of polymer and chemical products, VB feed stock, lube cut oil, sulfur, insulation, slaps waxes, argon, and oil.
The IME's mineral trading and metal floor reported trading of more than 873,768 tons of commodities valued more than $2.31M, including steel, copper, molybdenum concentrates, expensive metals concentrates, zinc, lead ingot, aluminum and gold bullion.
There were other commodities that customers traded in July, such as trading of saffron in the agricultural trading floor, while the IME's side market reported trading of PDA TAR, tomato paste, used locomotive engine oil, metal scrape, and Ferrosilicon.
An increase of 23% was also observed in the value of commodity trades at the IME during the past Iranian calendar month ended on July 21, 2020.
With an eight-percent rise in terms of weight, a total of 3.169M tons of commodities valued $5.52B were traded in July. IME's oil products and petrochemicals floor observed trading of 2.034M tons of commodities valued at $2.62B in July.
Hamed Soltani-Nejad, IME Managing Director, on April 21, 2020, unveiled the IME's strategic development plan until March 2025-March 2026 while taking into consideration the current Iranian year's slogan "Surge in Production."
Harvey is the FinanceWhile's passionate news writer. Before joining our team, he was a freelance writer and had written a number of articles related to finance and economics for foremost publications and news sites. He is an avid traveler. In leisure, he loves to travel and explore new places.