What is Banxso?
You might be afraid to step into the world of trading. Banxso has got your back as far as safe, transparent trade is concerned. Every time you invest in Banxso, you can do so without worrying about your deposit. Your deposits are duly kept in safe accounts. Banxso maintains crystal clear transparency; the trading platform values customers and clears their doubts.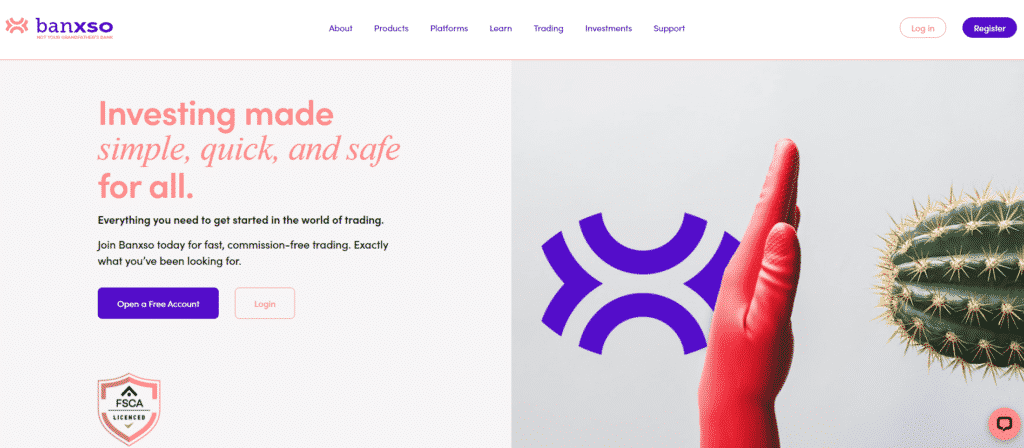 There are no hidden fees whatsoever. Banxso has gained more popularity among traders with its comprehensive services and easy-to-use interface. It gives users the opportunity to invest in various cryptocurrencies on the platform with an easy interface for beginners without knowing how to trade or use other platforms.
Features of Banxso

Simple:

If you go through the beautifully-designed

Banxso

website, you will find all the steps to be followed. Instructions are mentioned in a simple manner so that you do not have difficulty following them. They hold true to the notion "Trading does not have to be complicated." Due to the simplified process, you can invest without any distractions.

Quick:

Your investments are processed fast. It is a commission-free platform, and thus your deposits do not have to wait for their turn. Banxso is super fast as investments and other procedures are digitally processed.

Safe:

One may doubt the safety of a financial platform. But with Bunxso, you do not have to worry about security. It protects your hard-earned money as the most dependable trading platform.

Knowledge Center:

You might be an amateur on the trading platform. But the knowledge center of Banxso contains webinars, articles, daily market reviews, and trading ideas cover every aspect of trading and investing. Before depositing, you can go through their content and make yourself aware of the trading world.

Trading Tools:

You need to sharpen your strategies to get nice profits. You will get a fair share of upliftment in your trades with the help of trading tools. You can trade like a pro with these. They offer added benefits such as robust technology and analytics to help traders make better decisions.

Live Chat:

Stuck with a problem? You can live chat with their customer representative in no time and get your worries and concerns addressed immediately. Every customer is valuable to the company. Thus they give proper attention to your doubts, fears, and problems regarding trading and investments.
Is Banxso a regulated broker?
Banxso is a regulated broker. It is authorized and regulated in various jurisdictions. The South African Financial Sector Conduct Authority has approved and controlled it. All clients of the below-mentioned countries are unauthorized or in contrast to applicable laws. Cambodia, Australia, Cuba, Canada, Iran, Ghana, Israel, India, New Zealand, Mongolia, Nigeria, North Korea, Panama, Pakistan, Philippines, Syria, Yemen, United Kingdom, the United States, and others.
Pros and Cons of Banxso
| | |
| --- | --- |
| Pros | Cons |
| High trade volume, high liquidity, transparency. | Banxso takes a different approach than a traditional trading platform. |
| Easier to trade in cryptocurrency than on any other platform. | |
| Banxso has a high volume of trades, a wide range of digital currencies to trade with, and an advanced charting platform that can provide highly accurate market analysis. | |
Is it safe to trade with Banxso?
Yes, Banxso is a safe-to-use online trading platform. The website has robust security, and users need to enter their password every time they log in. This ensures that no one except you can access your account. Banxso offers two-factor authentication (2FA) on all accounts, which means they will send a code to your registered phone number every time you try logging in with another device.
Assets offered for the trading
Trade over eight thousand assets on this advanced platform and enjoy an easy and safe trading experience. It offers various financial instruments such as stocks, commodities, forex, bonds, and cryptocurrencies. The following are the categories of assets you can trade with.
Currencies:

The trading platform allows you to earn money and use different types of currencies. Trading with currencies is beneficial to the economy, and it creates more cash flow, which in turn helps to create more jobs. It's not surprising since the advent of technological advancements in the world. Exchange rates, interest rates, and fluctuations in currency values have made it easier for people to send money across borders. All these determine which currency you should trade.

Stocks:

Stocks are traded on the stock market, an important part of the global economy. To trade stocks, you need to register as a member of the trading platform. Trading is one of the most popular ways to make money. With the upsurge in the popularity of online trading platforms, many individuals are looking for a more efficient way to trade. Buying and selling stocks is a risky business. One should keep in mind that it's not a one-time investment but a long-term commitment.

Indices:

Trading indices are financial instruments that trade the value of an index. They are an asset class used to create portfolios, hedge risk, and provide diversification. Indices are used to track the performance of securities, commodities, currencies, or other assets priced in terms of more than one type of item. The trading indices are a way for investors to track the stock market's performance in different countries. They are usually calculated using prices from transactions. Most indices have a base level of 100, but they can also be adjusted to meet certain needs. The term "index" (singular of indices) is derived from the fact that they are designed to follow some real measure, such as price-to-earnings ratio or the size of a particular company's market capitalization.

Commodities:

A commodity is a standardized item used in trade and is produced or distributed on an industrial scale. It may be raw material, work in progress, or just finished goods ready for market. Commodities are traded on a commodity exchange, which acts as a marketplace for buyers and sellers to meet.

Cryptocurrencies:

Cryptocurrencies are an increasingly popular form of money. With the recent growth in popularity, many people have started trading in cryptocurrencies. This is because cryptocurrency trading can be profitable for skilled traders with time on their hands. However, there are few good traders to keep up with the demand. In this case, Banxso will help you trade well with cryptocurrencies. 
Order Types
The order type in Banxso is that the user sets their stop loss, takes profit levels, and then monitors them for trades. Banxso's order types are:
Limit:

A limit order is a type of trading order in which you set the price you want to buy or sell a particular asset. It can be used to purchase or sell a specific asset going up or down in value. Limit orders help you to buy or sell securities at a particular price and period. They are used by investors who want to buy or sell shares at a specific price. It provides traders with the right amount of flexibility and control over their trades.

Market:

A market order is a type of trading order to buy or sell shares without specifying the price you want to execute the trade. The trade executes as soon as it is matched against another business with an opposing market order.

Stop-Loss:

You might decide to place a stop-loss order on a stock you own if it declines in value and becomes unprofitable. You would then close the position and take the loss on the share. This is one of the most popular strategies for day traders and investors. It works best when markets are volatile and people trade stocks frequently. Traders can set up an automatic stop-loss order for their account and use other strategies like trailing stop or martingale to make more money.

Take-Profit:

This type of order guarantees you will receive at least your original investment plus any profits generated. This means that if the market goes up, you profit; if it goes down, you still profit by simply maintaining your position. You can use these orders to hedge your work or lock in profits from a bullish or bearish market. Take-Profit Orders are used by traders who want to minimize their risk and avoid large losses in case of a price swing in one direction.

Trailing Stop-Loss:

A trailing stop-loss order gives traders time to consider whether they should continue their position or protect their gains by taking a loss. The order reduces risk and limits losses on a long position in stocks or other securities.

Trailing Take-Profit:

A trailing take-profit order is a type of order that places a sell stop-loss order behind the bid price. When the price falls to this level, it is automatically executed as an exchange buy. The result is that the trader gets to lock in a profit without even taking any risk immediately. This can be very useful in volatile or fast-moving markets but can also lead to stops and losses when used carelessly and without understanding the potential risks involved. 
Demo Account
Banxso provides a free demo account to all traders. All you need to provide is your email address and a strong password to access the demo account. Trading in the financial markets is not easy, but CFD and spread betting can make it easier. CFD stands for Contracts for Difference. It is a simple type of trade where the investor only pays the difference between an asset's opening and closing price. This is different from spread betting, which will cost more but also includes leverage. Traders can practice on the demo mode, using virtual money with no risk of losing the real one.
Account Types
The broker offers a free demo account and a live account without a minimum deposit. You can choose between using one of the listed trading platforms, including only forex, commodity, and index trading. It provides three types of accounts for the traders:
CFD account

Spread betting account

Corporate account
All the accounts mentioned above have some similarities, but they are different in other aspects. For instance, even though all of these accounts have the same features, some instruments vary depending on the type of account you are looking for.
Opening a trading account is effortless with Banxso. It's a simple step-by-step process that gets you up and running in no time. And once you've had a taste of the trading platforms, you'll want to come back for more!
Account opening process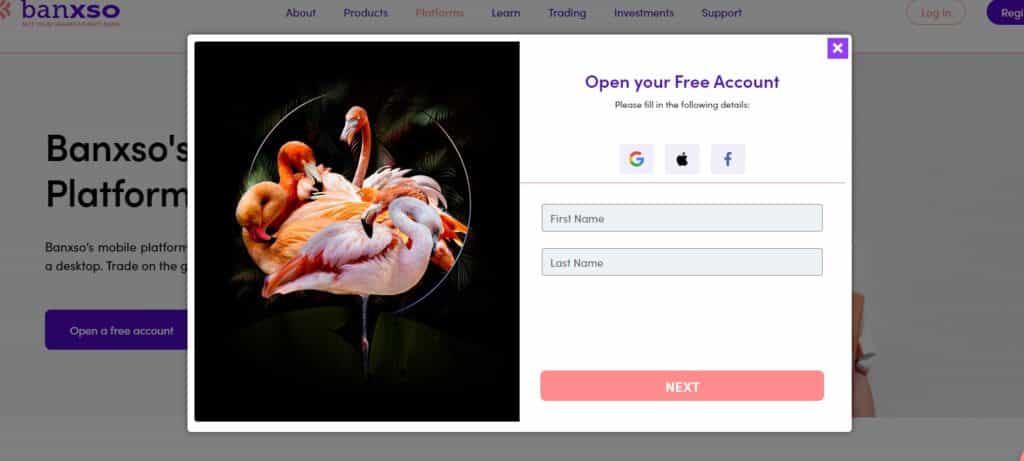 The account opening process with Banxso is quick & easy. They have a downloadable application and can help you with live or demo trading based on your preference. But the trader should take time to submit, or at least review, some of the document requirements. These documents might make the process more tedious – but they are necessary for everyone's security. These submissions are required as per KYC regulations. The following are the step you need to follow: 
Registration:

You need to visit the website and fill in basic details like full name, address, contact information, etc., as per the registration process. You also have to submit tax information and status, national insurance number, and others. 

Adding Financial Information:

The broker will ask the trader to provide mandatory information about their financial status. They also need to state their employment status, the industry they work for and provide details like annual income and past trades. The traders will be asked about the dangers of risk and an understanding of leverage.

Verification Process:

They need to abide by the licensing conditions that the FCA asks for. This means that besides providing necessary documents, you also need to include clear copies of proof of address and government-issued ID. 

Depositing Funds:

If you're using a demo account, there's no need to deposit money as it's already been preloaded with virtual funds. You can fund this account by transferring money to the broker's bank accounts by loading it with a debit card or credit card. You need no minimum amount to deposit on the platform. It is very much welcome to start with a small amount to start trading. 

Live Trading:

When you open a trading account, a minimum amount will be deposited into your account. To start trading, log in to the client area of the account. Once logged in, you can begin trading. Log in to the easy-to-use trading platform, and you can quickly search for what you need. You can also filter by asset or type of instrument. The customization options are among the best things about the site and the market, but you will find many other benefits.
Trading Platforms

Diverse trading platforms are available on Banxso. Two of the popular ones are MetaTrader5 and their mobile platform.
MetaTrader 5 is a multi-asset brokerage platform equipped with advanced trading features. It allows for quick and seamless trades across the globe, including forex. It is an all-in-one trading platform with the main focus on CFDs for Forex, stocks, futures & more. There's also a built-in risk exposure monitor so you can stay safe while you trade. MetaTrader has been updated to be a faster platform than before. It is 64-bit and allows multiple threads to process information much more quickly than the previous version. This also means that one can monitor bids and offers across markets.

Banxso offers a mobile app where traders can trade from their smartphones. Both Android and iOS devices are compatible with the app. Banxso's app provides you with a complete set of features and some handy ones like technical indicators. That way, traders can meticulously see what's going on with their accounts and track everything. Banxso is a financial trading app that lets you trade from anywhere. You can use the Banxso APP for Android or iOS to trade on the go or from your laptop. This app comes with various features such as a social feed for traders, a news feed, and more.

Banxso is a professional trading firm that serves various people, from novice traders to seasoned professionals. There's a platform for everyone, from Banxso X to MT4 and even mobile devices. A forum offers plenty of unique features in addition to the general services it has to offer.
Education
Banxso understands that it can be difficult to navigate your way through the different aspects of managing your money and investments. That is why it offers a variety of tools suited for every level of knowledge. You can learn about the different assets available to you, how to build a portfolio that suits your needs, or how to use its tools for investment advice. 
Banxso Review—Customer Support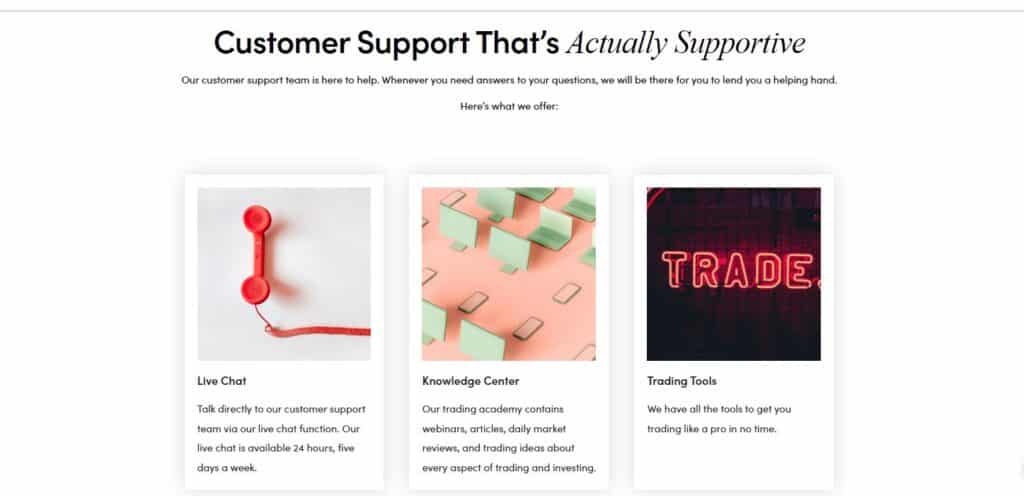 Customer support is an integral part of Banxso's business. It handles customer complaints and helps customers with their queries. The team assists customers with their trading needs and assists them in buying or selling any currency at the best possible rates. Also, go and check the economic calendar to know further upcoming updates.
The team works closely with the customer care executives to assist with various topics related to Banxso's services. The customer service center has multiple channels for communication, such as live chat, phone calls, email, and social media messages for support purposes.
FAQs
Is Banxso easy to use?
The website is easy to navigate. Along with the website, you can also easily download the mobile app to use it through your phone.
What kind of help does Banxso offer? 
You will get all-time customer support. It also offers knowledge centers to know about the trading market if you are new to it. The available trading tools can guide you to trade better.
How do trading platforms work?
A trading platform is typically a software system or group that facilitates trading by matching buyers with sellers. A trading platform allows the parties to enter their transaction details (such as price and quantity), confirm they can trade, and execute the trade according to the agreed-upon terms.