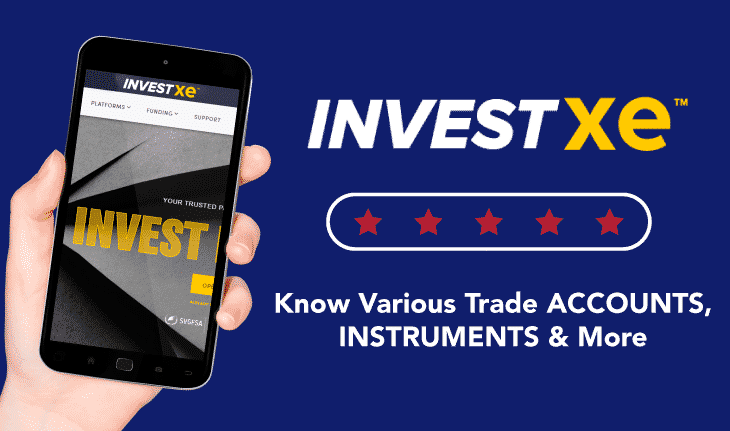 Introduction
InvestXE is a leading online trading platform that lets you trade over 16000 markets from around the world. It offers you the resources and tools you need to become successful in the trading journey. Whether you are a hardcore trader or new to the world of trading, InvestXE has something for you on its platform. The platform aims to make trading simple and accessible to everyone. It lets you trade everything from commodities to cryptocurrency. If you are new to the trading world, InvestXE offers the tools and guidance to become a successful trader. The platform combines unmatched expertise with high-class customer services to help you in your trading journey. So, let's have a look at all what this trading platform has on offer in this detailed InvestXE review.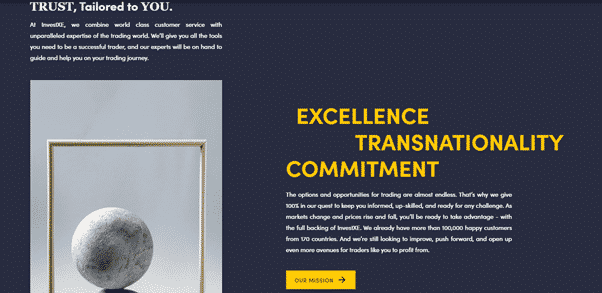 Trading Accounts
 With a range of accounts on offer by InvestXE, you are sure to find one that best suits your requirements. The various InvestXE account types cater to different people having different levels of experience. Moreover, every account can be customized to meet the exact needs you have. Let's look at each account type offered at InvestXE in detail below:
Primary Accounts
The primary accounts offer all that you require to trade efficiently and successfully at your fingertips. You can trade over 16000 assets under six classes. The Primary Accounts at InvestXE has three tiers, namely:
Standard Account: If you are starting your trading journey, then the Standard Account is the best one. This account lets you trade many assets and know the different markets. To help you make smart trades and make profits, their seasoned analysts offer you various techniques and information. The minimum BTC you need to deposit to open a Standard account at InvestXE should be of value equal to $500.
Progression Account: The Progression Account of InvestXE is an account for beginners as it offers all the tools that you require to become a professional trader. Hone your skills and increase your knowledge to beat the competition and earn high profits. Besides letting you trade multiple assets and expert tips, this account also offers you access to the MarketPro 1.0 platform, 90 days of access to its trading school, and extensive webinar library membership. You can get access to this account with a minimum funding of BTC of value equal to $5000.
Advanced Account: The popular account under Primary Accounts, the Advanced Account lets you trade like a Professional. Make every trade a successful one using this account. Besides all the features that come with a Progression Account, the Advanced Account also offers 24/7 support for helping and guiding you with your trades. And instead of 90 days access, you get access to its Trading School for 180 days. It requires you to make minimum funding of BTC having a value equal to $25000.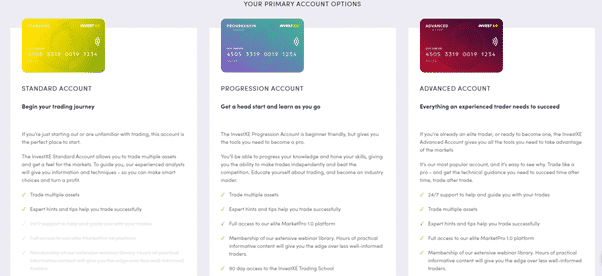 Professional Accounts:
You get countless opportunities and options with trading. InvestXE offers you many benefits with its second type of account that is the Professional Account. The various perks of opening a Professional Account with InvestXE include tighter spreads, trading signals sent to your phone directly through WhatsApp or SMS, bespoke insights, and an invitation to training sessions and VIP events. There are two tiers of Professional Accounts that you get with InvestXE:
Gold Account: If you are looking to make big trades, then the Gold Account is the most suitable one for you. With this account, you get the tools, ability, and assistance from the experts to make winning trades. Get access to MarketPro 1.0 platform, personalized and bespoke sessions, and a direct hot-line to their trading room. You can also benefit from the unlimited assistance from their experts available 24/7 and live review sessions with their analysts to get familiar with their various platform features. The membership of their webinar library offers informative content and practical support to trade successfully. Deposit BTC required a value equal to $75000 to open this account.
Platinum Account: This is a top-tier account offered by InvestXE for real traders. It is the ideal account for you if you wish to become a winner by conquering the trading world. It provides everything you need to become a top trader, including lots of resources, high-tech tools, and knowledgeable and committed support. Other than all the features that come with InvestXE Gold Account, the Platinum Account also offers better spreads that are nearly 5% lower and exclusive access to their VIP rooms. Deposit BTC with a value equal to $150000 to open this account.
AutoXE Accounts
The third and the last type of InvestXE account is the AutoXE account. Now you can run efficient automated trading strategies in your brokerage account with InvestXE's AutoXE account. It will help you save both your efforts and time and still make lots of money. With an AutoXE account, your funds will remain in your personal brokerage account always, and you can start and stop the system as and when you want. It also gives you the option to choose a single strategy or work using many of them according to your choice. The analysts at InvestXE pick the best strategies used by the legends, and you can choose from them.
Tradable Instruments
InvestXE lets you trade over 16000 assets under different instruments. No other platform offers you such an extensive range of assets to trade in various markets.
Cryptocurrencies: If you don't own cryptocurrencies, you can still trade them with the InvestXE platform. InvestXE has high-tech and leading-edge tools available to find the best trends for you in the crypto world. You can spot the best opportunities before other traders using this platform and earn increased profits. You can also get invaluable insights and unique opportunities with InvestXE to trade successfully in the cryptocurrency market.
Currency Options: The market of Currency Options is fully sought-after and quickly expanding. Its various trading opportunities attract most traders. With the education and insights that this platform offers, you can be on the winning end while trading currency options. The various perks of trading currency options with InvestXE include 24 hours trading, different maturity ranges, competitive pricing, 24/7 chat support for guidance and help, access from any device, and real-time market analysis.
Energy Commodities: Both renewable and non-renewable energy sources come under energy commodities. The renewables include solar, geothermal power, biomass, and wind, while the non-renewables include coal, gas, and oil. The energy commodities price fluctuates often based on different factors like new technologies, geopolitical situations, weather conditions, and more. However, smart traders and investors easily take benefit of the market fluctuations. InvestXE offers you all you need to trade energy commodities smartly. InvestXE's experts are readily available to help you and offer the information you need to trade in the commodity market.
Precious Metals: InvestXE lets you trade different precious metals, including gold, silver, platinum, and palladium. Precious metals tend to increase in their value, so they are traded widely for years. The platform offers you excellent opportunities to trade precious metals profitably.
Soft Commodities: There is a high demand for soft commodities like cotton, sugar, soybeans, cocoa, coffee, etc. You can make profitable trades in the soft commodities market with their frequent price fluctuations. InvestXE offers you access to a range of strategies that you can use in the large market of soft commodities. You can make profits by trading soft commodities even during downtrends.
Education
You can now master the trading world with InvestXE's educational courses and training. Whether you want to learn the different aspects of trading, build your skills, or increase your knowledge, InvestXE is there to help you. From novices to experts, everyone can benefit from these educational courses. The topics included in these training and courses include stocks, indices, commodity trading, crypto leveraging, trading strategies, market trends, and more.
Online Trading Courses: Trading is quite complicated. So, InvestXE offers different trading courses for its users to make them learn various facets of trading. You can take up these courses at your convenience. The courses include helpful webinars by industry veterans and professional analysts, best trading strategies utilized to trade different instruments, and 1-click access to participate in virtual learning.
Personal Trading Coaches: A personal touch can be helpful when you want to learn new skills. InvestXE has personal trading coaches that can offer you individual mentorship to develop your trading knowledge and skills. You get the opportunity to request help, ask questions, and learn from trading experts by having personal sessions.
Crypto Funding Basics At InvestXE
You can now make high profits using leveraged crypto funding without needing to deposit added funds. Whether you are a newbie in the trading world or are an experienced trader, you may find it hard to get the funds you require to make trades. InvestXE offers monetary leverage that provides you the opportunity to reap great rewards. Moreover, with leveraged crypto options, you also get protection against the cryptocurrency market's erratic nature. You can also short the positions on the cryptos with this platform and buy currencies at bargain prices.
Trading Platforms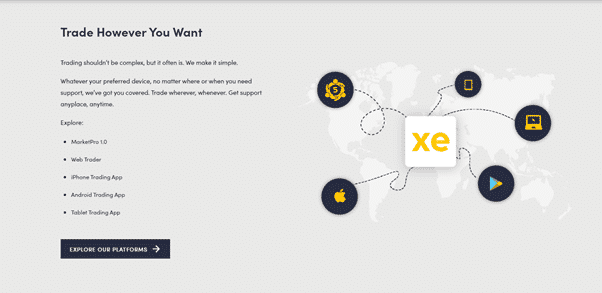 InvestXE has many platforms on which you can trade any of the instruments and assets. Let's look at all the available platforms in this InvestXE review:
Android Trading App: With Android Trading App, you can now trade anytime and anywhere. With a variety of tools and full functionality, take benefit of all the trading opportunities that are offered by InvestXE. The app also sends push notifications, all tools required to trade on the go, excellent customer support, and a lot more.
iPhone Trading App: Now make trades when and where you want with the iPhone Trading App of InvestXE. With this iPhone Trading app, you are not going to miss any trading opportunity again. InvestXE has optimized its intuitive interface for small screens. So you will have multiple trading options and full functionalities at your fingertips.
MarketPro 1.0: This is a flagship platform of InvestXE. It offers you each practical tool that you need for trading and the capacity to evaluate and know the market in real-time. From cryptos to exchanges and everything in between, MarketPro 1.0 helps you turn your game up and get a step ahead of your competition. It is available to use on many browsers and devices. It has both free and paid features like copy trading feature, Currency Options VPS through virtual hosting, immediate access to strategists and developers from across the world, real-time technical indicator, AI-driven robots that used advanced algorithms, and more.
Tablet Trading App: InvesXE tablet trading app lets you trade at your own convenience. With this app, you can access the latest market data and information in real-time, track the newest trends, and view live prices. It offers you all the functionalities and features that you need in one package.
Web Trader: Made with beginners in mind, the Web Trader platform of InvestXE has made trading simple. It aims to educate the new traders so that they can be industry veterans. Without knowing it, you will have all the confidence, skills, and knowledge needed to become a professional trader. If you want to trade and learn simultaneously, then Web Trader is the best option for you. With the Web Trader of InvestXE, you can access historical trading data, find trends of various financial instruments, and see the trending assets. You can also use multi-chart windows to contract and compare assets and get efficient risk management options and tools.
Services Offered By InvestXE
InvestXE offers many different kinds of services for both novice and experienced traders like:
Dedicated Sales Traders: If you want to trade in a new market, a Dedicated Sales Trader at InvestXE can make the entire process simple for you. The sales trader will happily do all the complicated and hard work for you. They can handle sales, funding, admin, and more with their proven success record and years of experience.
In-House Analysts: If you want to super-charge your trades, an in-house analyst of InvestXE can be helpful. You can now get an edge over your competitors and save your efforts while you reach the top. An in-house InvestXE in-house analyst offers you insightful advice, saves you from falling into the pitfalls or traps, and tells you the secrets that only the top veterans know.
Personal Relationship Managers: Trading is a complicated, time-consuming, and confusing process. So, you should get help whenever required. Get the service of a personal relationship manager at InvestXE for getting assistance with any trading aspect. They can tell you which trades you should target, help you avoid traps, and make you understand the technical jargon. You can reach them through email, chat, or phone.
Personal Trading Courses: If you want to become a successful trader, you should equip yourself with a complete understanding and information on the market. With a personal trading course at InvestXE, you can get the knowledge that is generally available for the industry experts only. Get insights into the working of the market that helps you understand the trading complexities in a better way with their personalized training.
Support
Since InvestXE offers its services globally in nearly 170 countries worldwide, they are available to help you when and where you need it. Get in touch with them with any of your problems or issues.
Email Support: InvestXE offers robust 24/7 available support via emails. You can use the email addresses mentioned below to get in touch with their support team:
For Support: cs@investxe.com
For Analyst Desk: analyst@investxe.com
For Trading Desk: tradingdesk@investxe.com
For Compliance: compliance@inestxe.com
WhatsApp Support: For instant support, InvestXE uses the most famous messaging app around the world. You can contact them through WhatsApp directly. They will then reply to you within minutes. Their dedicated support team is ready to help you, 24/7.
Telegram Support: You can also get instant support through the Telegram messaging app at InvestXE. Whether you have a technical issue, a query related to their platforms or service, or any question related to trading, they are available to offer you the required assistance.
Phone Support: If you want to talk to an expert directly, you can call for instant support. Regardless of your issue, query, or question, you can get assistance when you want.
Conclusion
InvestXE is the best platform available for all your trading needs. With InvestXE, there are endless possibilities. They not only have outstanding customer service but offers industry-leading services and platforms that are suitable for every level of trader. Their extensive range of tradable instruments is second to none. Both new and experienced investors should consider trading with InvestXE. They also offer leveraged crypto trading services for those who don't possess the required funds. So, do give it a try once, and you are sure to make successful trades and lots of profits with InvestXE.
FAQs:-
1. What Are The Main Types Of Accounts Offered By Investxe?
Ans. InvestXE has three main types of accounts, namely Primary Accounts, Professional Accounts, and AutoXE Accounts.
2. What Instruments Can You Trade With InvestXE?
Ans. Traders and investors can trade soft commodities, precious metals, cryptocurrencies, currency options, and energy commodities.
3. How Can A Personal Relationship Manager Help You?
Ans. A personal relationship manager can be reached through phone, email, or chat. They can tell which trades you should go for, help you avoid falling into traps, and make you understand all the technical trading related jargon.
4. How Can You Trade On InvestXE?
Ans. InvestXE has many different trading platforms, including Tablet Trading App, Android Trading App, iPhone Trading App, Web Trader, and MarketPro 1.0. You can choose a platform based on your requirements.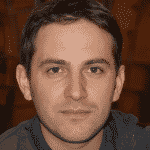 Harold joined our team as a reporter while still studying, a job that suited him perfectly as he always prefers working on the stock analysis. He has a passion for new technologies, economics, finance, and is always keen to learn more about the ever-changing world of journalism. Harold also likes to explore new things in his free time.